The Faisalabad Campus was established in 2004, it is located on Khurrianwala-Makkuana Bypass Road, Faisalabad, which is the hub of all industrial enterprises in the central Punjab region. The piece of land measuring 209 acres was provided by the Government of Punjab.
Department of Mechanical, Mechatronics and Manufacturing Engineering started UG degree program in Mechatronics and Control Engineering right from 2004. Mechatronics and Control Engineering is an inter-disciplinary field that integrates the domains of Mechanical Engineering, Electrical Engineering, Computer Science, and Information Technology. This hybrid-engineering program was established to fulfill the ever-growing demands of industry and research sectors to tackle the problems associated to the control, automation, artificial intelligence, robotics and/or related areas. The department at Faisalabad Campus is equipped with state-of-the-art laboratories and highly qualified faculty to provide the students with a great learning environment. The department follows the same curriculum as Mechatronics and Control Engineering at Main Campus, UET Lahore. Graduates of this department are working in the renowned industries of Pakistan and abroad.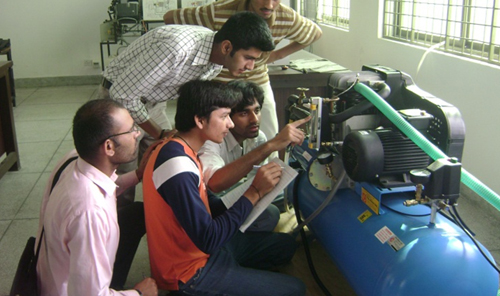 By 2022, 700 plus graduates have completed their degree from the Department. All intakes of the department have been accredited by the Pakistan Engineering Council. Specifically, from 2004 to 2016, thirteen sessions were accredited on Level I, whereas Session 2017 was accredited on Level II, which is Outcome Based Education (OBE) System.